Raise your hands if you wake up to the sound of your dog licking his unmentionables at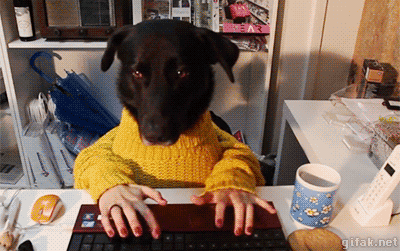 WTF o'clock!
We have three dogs so within a couple of minutes it sounds like you're sleeping in a car wash.
Anyhoo, here's today's list of writing job leads. I've got some online freelance writing jobs open to all and some Canadian writing gigs.
Off to get some much deserved and needed coffee.
Have a great day!
Remote Writing Jobs (Work-from-Home / Online Writing Jobs)
FREELANCE WRITERS – The List is hiring remote freelance writers to join their feature and news teams. Candidates must have at least 3 years' experience writing content for print or the web with a focus on celebs, royals, and women's lifestyle content similar to The List. These positions are work-from-home with flexible, stable hours. Location does not matter. Read more/apply
STAFF WRITER – Freethink is hiring a full-time remote staff writer to pitch and write original stories on a weekly basis. Ideally you have experience covering the science & technology beat or entrepreneurship beat and the ability to juggle multiple projects. Read more/apply
FREELANCE CONTENT WRITERS – Wrapbook is hiring freelance writers to create blog posts on film production and payroll in a timely manner. You will be required to research topics regarding payroll, insurance, and compliance laws and write under the provided SEO parameters. Read more/apply
FREELANCE FOOD WRITER – An unnamed but well-known food nutrition brand is hiring a remote freelance writer that's interested in informed about the latest food and nutrition trends. Must be fluent in WordPress, image copyright issues and SEO best practices and be able to deliver from 1 -10 stories with a strong, fearless and occasionally snarky point of view weekly. Read more/apply
REMOTE TECHNOLOGY WRITERS – Comparitech is looking journalists and bloggers to join their team. These are remote writing jobs for experts in the areas of broadband and connectivity, cloud technologies, VPN and privacy and information security. Read more/apply
REMOTE BUSINESS COPYWRITER – Pitch Deck Fire is hiring a business copywriter able to write for various mediums, including long and short-form writing. You must have proven copy-writing ability – NOT blogs, product management and communication skills, and knowledge of business structures and entrepreneurship. This is a part-time, remote writing job. Read more/apply
EMAIL COPYWRITER – Longplay Brands is hiring and experienced email copywriter. This is a remote Canadian copywriting job.You must have a strong understanding of email marketing copywriting, be well-versed in the optimization tactics that drive sales, and have a proven track record of writing compelling copy that captures a brand, connects with their audience, AND generates sales. Read more/apply
Canadian Writing Jobs (In-House Jobs for Writers in Canada ONLY)
COPYWRITER – OpenText is hiring a full-time copywriter to work in their Kitchener, ON office. This Canadian copywriting job involves writing original copy for various projects, brainstorming ideas, creating concepts, and supporting video script development. You must have 3-5 years of professional experience in content development or communications. Read more/apply
CONTENT WRITER – Inbound Squad is hiring a part-time content writer to work in their Edmonton, AB office 3 days per week. You must have proven work experience as a Content Writer, copywriter or similar role, a portfolio of published articles, and hands-on experience or training in CMS systems, such as WordPress, as well as marketing software and SEO tools. Read more/apply
MARKETING COPYWRITER – Hivestack is hiring a copywriter with a knack for technology to work full-time in their Montreal, QC office. You will be developing innovative social media content, blogs, newsletters, whitepaper, case studies, and more. You must have 1-2 years' content writing experience and experience with B2B content creation in a software environment. Read more/apply
Thanks for visiting Writing Jobs Canada!
freelance writing jobs, online writing jobs, remote writing jobs, Canadian writing jobs, freelance writing jobs for beginners, find freelance writing jobs, freelance copywriting jobs,, writing jobs for freshers, find writing jobs, be a freelance writer, writing jobs from home, freelance writing gigs, write from anywhere jobs, remote freelance writing jobs, hire adrienne santos-longhurst writer, canadian freelance writer, hire a write, hire writers, work from home writing jobs